Parr Industrial is a millwright company, providing safe and professional industrial mechanic service to Saskatchewan, Alberta, and Manitoba. We provide experienced and dedicated millwright crews for plant turn-arounds / shutdowns and 24/7 emergency response for all equipment failures. Parr Industrial is a stocking Xylem pump service center and provides in-house, as well as on-site, repairs and service to all other brands of pumps in addition to air compressors, blowers, fans, electric motors, gas compressors, cooling towers, conveyor systems, gear reducers, etc. We carry a large inventory of bearings for electric motors and pumps as well as mechanical seals and gaskets.
We have experienced crews available for new equipment installs or the relocating of your existing (or new to you) equipment. Aligning and levelling equipment bases and conveyor lines are important first steps to insuring proper operation and increased life expectancy for these expensive assets.
Parr Industrial is a family owned millwright services company that has been in business since 1998. Our roots in the business go back for generations. You can say it's in our blood. Parr Industrial has developed into a premier
millwright company well known in the industry for achieving very high standards in workmanship and safety. We are a member of I.S. Net Safety and we ensure safety is a priority on every project. Our alignment and vibration equipment are the best in the business and our technicians are experienced and knowledgeable.
Parr Industrial is also now a Western Canadian distributor for KUKKO brand bearing and gear pullers.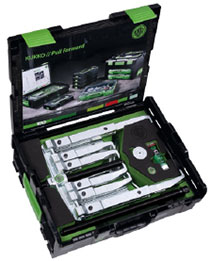 Parr Industrial's seasoned and dedicated trades people provide safe and thorough on site repairs and installation of all types of rotating equipment and structures. From pumps and fans to packaging / conveyor lines and storage vessels.
We provide laser alignments and live trend thermal growth monitoring for pumps, gear boxes, and machine trains. Our in house repair and rebuild services are completed on time and on budget with strict attention paid to every detail of the rebuild.
CUSTOMER SATISFACTION IS OUR GOAL